Interior Landscape Residency
What is the Thompson Center?
Chelsea Lombardo
20 Jan–24 Jan 2020
WHAT IS THE THOMPSON CENTER?
Chelsea Lombardo in residence

The James R Thompson Center is a post-modern office building for the State of Illinois that opened in 1985 in downtown Chicago. After years of deferred maintenance, the State has announced plans to sell the building, presumably to a private developer who would demolish it.
"WHAT IS THE THOMPSON CENTER" asks what the Thompson center is instead of what it is not to greater understand how we translate space, the overlaps and the oddities.
The work represents the James R. Thomson Center as a fragile and fleeting object, a piñata, not to signify its demise, but to mark a moment of change. Memory data gathered by asking "What is the Thompson Center?" will fill the piñata, which will be burst open within Space p11 to signify this moment as a turning point, expanding our current understanding of what the building is.
What are we seeking to preserve besides form? The Thompson Center piñata moves the viewer past the physical form of the building to see soft space: use, cognition, connectivity and the social.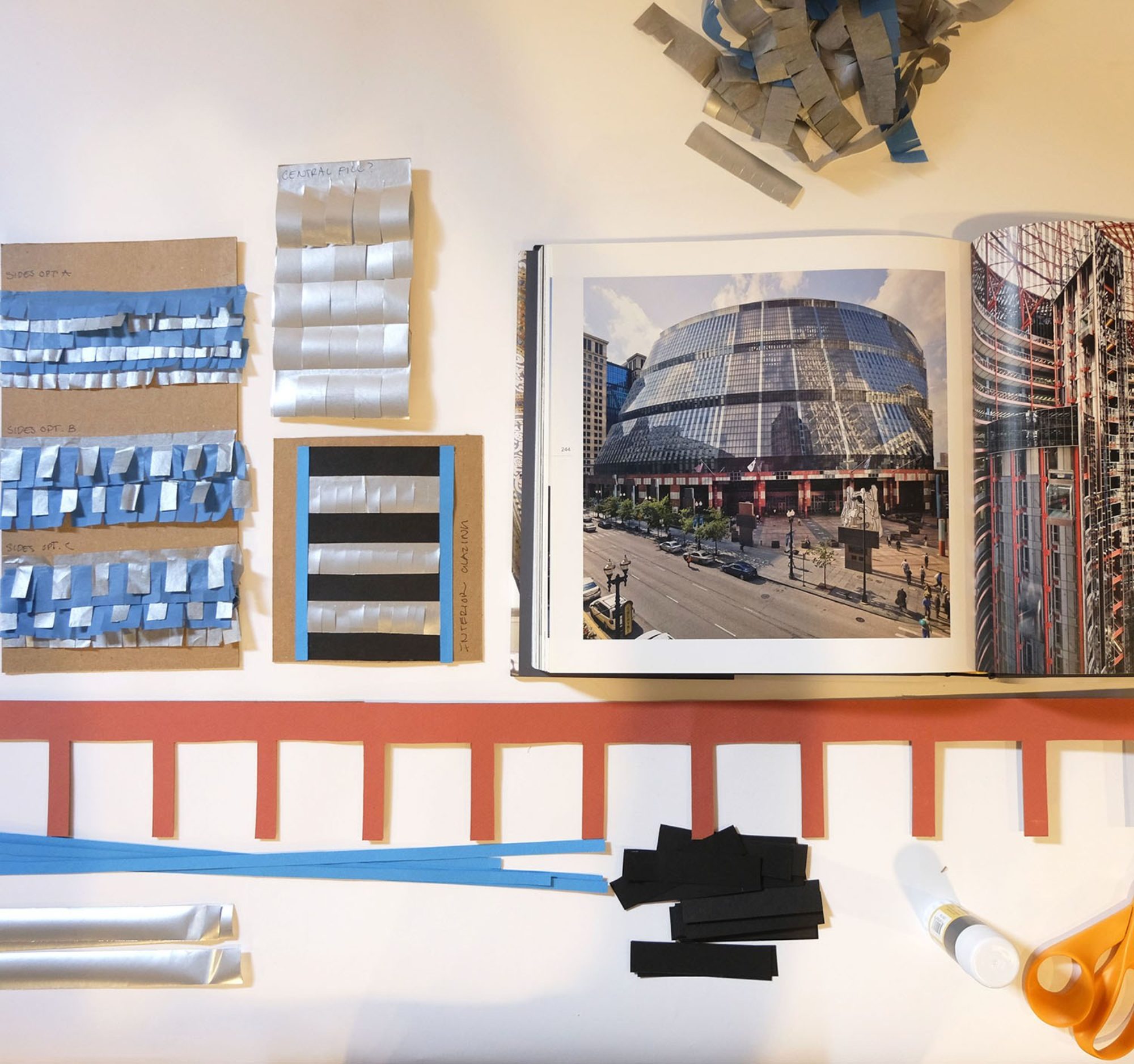 Chelsea Lombardo is an architectural designer from Chicago, Illinois interested in the way systems shape our lives on a global and civic scale, both physically and ephemerally. Her research and creative practice works within extremities, forming alternate and oftetime contrasting narratives between space and materiality to re-frame our collective understanding of why we value what we value. Projects such as Plastic Debt (Rossana Orlandi, Salone del Mobile, 2019) takes an abundant material and places it on the platform of fine art by re-molding it as an editioned art object, giving inherent value to it by adding limitation.
WHAT IS THE THOMPSON CENTER? Is the second iteration of her BFA thesis exhibition BOYCOTTING THE FUTURE (Sullivan Gallery, Chicago, 2017). Inspired by the words of architectural preservationist Richard Nickel, "Great architecture has only two natural enemies: water and stupid men," BOYCOTTING THE FUTURE puts the demolition of Prentice Women's Hospital by architect Bertrand Goldberg on display as a piñata, connecting the destructive and frivolous nature of society between forms at two drastically different scales. Below the piñata read a sign "NEW IDEAS CAN LIVE IN OLD BUILDINGS. IT IS NOT BOYCOTTING THE FUTURE TO RE-PROGRAM THE PAST" While BOYCOTTING THE FUTURE acts as a cautionary tale, WHAT IS THE THOMPSON CENTER? Looks to advance our current methods of preservation to include the intangible, giving inherent value by adding limitation.
Chelsea studied architecture and design at The School of The Art Institute of Chicago, receiving her BFA in 2017

WHAT IS THE THOMPSON CENTER is supported by the James R Thompson Center Historical Society