Designing with Air, An Im(material) Space
Liz Gálvez
29 Oct–15 Feb 2021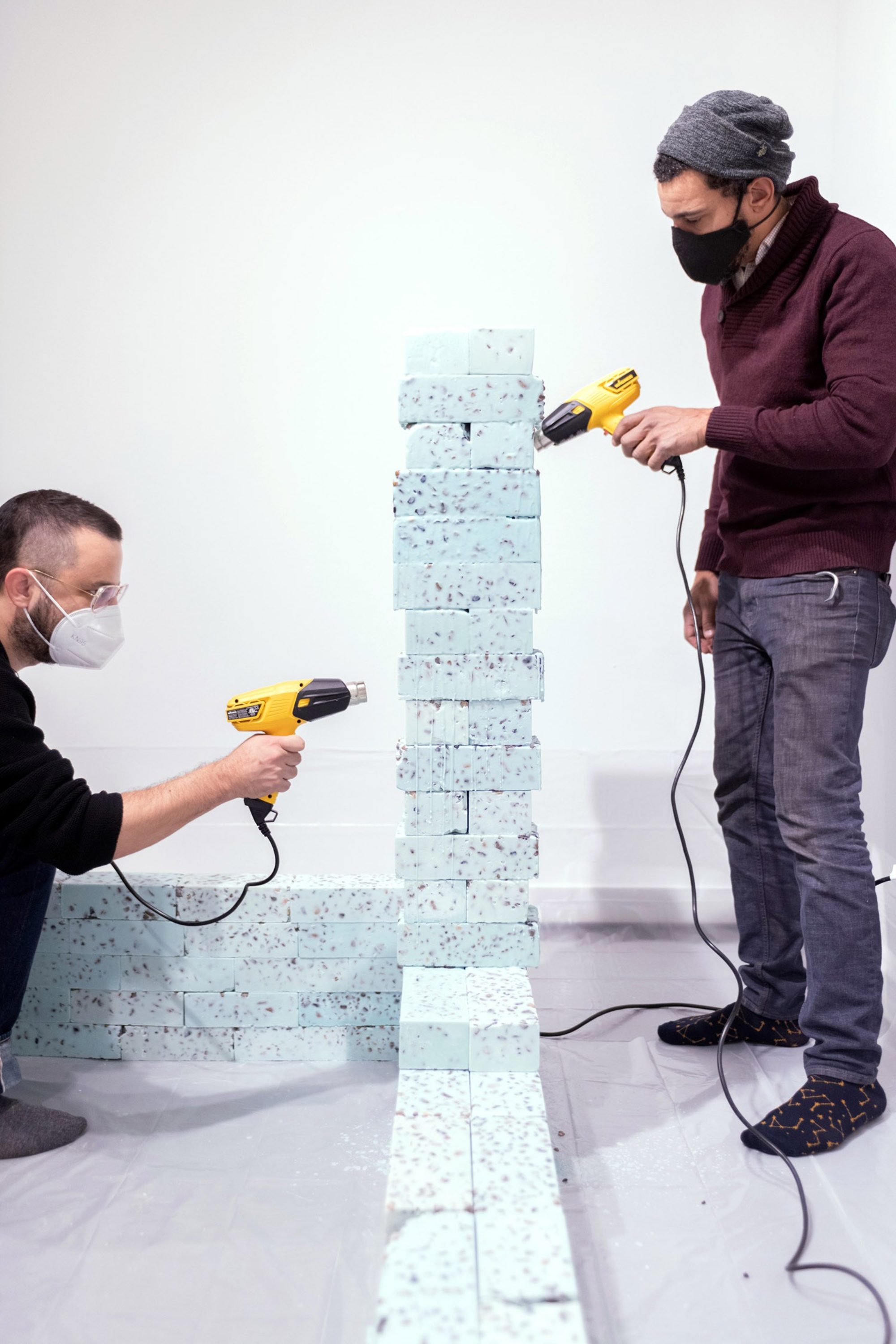 Designing with Air, An I̶m̶(material) Space
Office for Example (e.g.)
We will have an abundance of hot air in the very near future.
Air cannot be seen (for the most part).
Air can be felt.
Air is getting warmer.
Air can have seen affects.
Air can form artifacts.
Air is Immaterial.
An I̶m̶(material) Space deploys logics for designing with hot air. The project examines applicable uses for building with temporal materialities within the fields of architectural fabrication and construction practices via the development of an immaterial brick. The immaterial brick, composed of soy-wax and gravel aggregate, responds to, records, and importantly, enables air. An I̶m̶(material) Space, derived via interior conditioning technology and its energies, considers temporal relationships between architecture and environment through questions of the felt, the seen, the visible – the known.
Liz Gálvez is a Mexican-American educator and a registered architect. She is a Visiting Critic at the Rice School of Architecture and directs Office for Example (e.g.), a practice interested in examples of possible architectures. Her work focuses on the interface between architecture, theory and environmentalism.
Gálvez holds a Bachelor of Science and a minor in Philosophy from Arizona State University and received her Master of Architecture with a concentration in History Theory and Criticism from the Massachusetts Institute of Technology School of Architecture and Planning, where she was awarded the Department of Architecture Graduate Fellowship. After completion of her graduate coursework, she studied in Austria as the recipient of the Seebacher Prize for the Fine Arts under sponsorship of the American Austrian Foundation. Gálvez has taught at the University of Michigan's Taubman College, where she was the 2018-19 William Muschenheim Fellow. She has served as an invited critic on reviews at MIT, the BAC, Taubman College, RISD, and the Harvard GSD. She has formerly practiced with Merge Architects, NADAAA, Will Bruder Architects, and Rojkind Arquitectos. Gálvez's writing has been published in PLAT, Footprint, and Dimensions Journal. Her work has been exhibited in Cambridge, Salzburg, Ann Arbor, and Chicago (forthcoming)
Office for Example (e.g.)
Principal: Liz Gálvez
Project Team: Christy Au, Cynthia Castro, Carolyn Francis, Emily Lancaster, Margaret Tudor
Photos by Nathan Keay